Cameco vs. Uranium Price
Resource stock investing isn't "rocket surgery". Most of the time the driving force in commodity stocks is the price of the commodity the company produces or explores for. This chart of Cameco vs. Uranium price is from a presentation I gave at the 2004 Calgary Resource Investment Conference on April 25, 2004 - it hasn't been updated. The left scale (Cameco share price) is logarithmic and the right scale (uranium price) is linear so in the big picture, Cameco has some leverage to uranium price. Companies with marginal production or subeconomic resources have more leverage to the price of the underlying commodity.
---
UPDATE - I have just posted a "Snapshot" -
Heroes of the HUI
on the newsletter site. Sign up for a
FREE TRIAL
to view it. You can also check out our archives and see what I was saying about uranium stocks in January, 2004.
---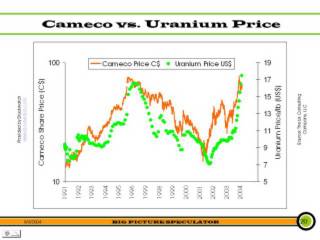 The weekly
UXC uranium price
was up US25 cents this week. At a $19.50/lb it is still costs less than truffles, caviar and most gourmet cheeses.
Not Advice
I do not own Cameco (CCO.T)
Try the
free for 30 days.