Steel, Trees, Transportation make 52 Week Highs
TSX 52 Week Highs
FDG/UN.TO Fording Canadian Coal Trust
WFT.TO West Fraser Timber Co. Ltd.
NCX.TO NOVA Chemicals Corp.
RFP.TO Riverside Forest Products Ltd.
IPS.TO IPSCO, Inc.
TRZ.TO Transat A.T., Inc.
POU.TO Paramount Resources Ltd.
CFP.TO Canfor Corp.
AGA.TO Algoma Steel, Inc.
CSS/UN.TO Contrans Income Fund
TIF/UN.TO TransForce Income Fund
IFP/A.TO International Forest Products Ltd.
GNA.TO Gerdau AmeriSteel Corp.
TUI.TO True Energy Inc.
UEX.TO UEX Corp.
Shares of steel companies are gracing the new high list and have been italicized. The next Big Picture Speculator will feature a group of small companies poised to benefit greatly from increased global demand for steel. It takes less than 60 seconds to sign up for a
Free Trial
.
Higher steel costs are bad for the rest of the economy (as are energy costs). As steel prices increase, marginal producers come out of the woodwork.
I previously mentioned that there was a
cement shortage
. The broader theme is building materials; steel and lumber fall into that category. It is easier to grind up mountains that it is to grow trees judging by the performance of the forestry companies. Demand continues to be strong in light of hurricanes, Chinese infrastructure building and the rebuilding of Iraq.
The transportation/airline companies battle higher energy costs so the recent drop in oil prices has helped them out.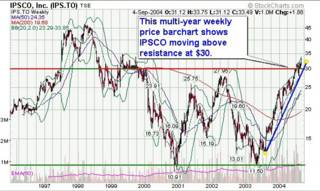 IPSCO, Inc.

Ipsco made a 52 week high on Friday. I would have expected some consolidation at the $30 level but it continues to move upwards.
Not Advice
Courtesy the
Big Picture Speculator